Waikato and Bay of Plenty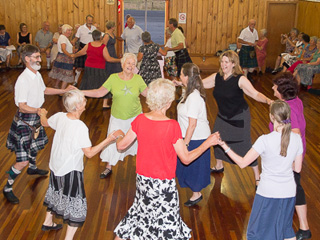 The clubs in our region extend from Hamilton in the West to Opotiki in the East.
We number about 240 in all and our clubs run classes for beginners as well as more advanced dancers. Dancers of all ages are welcome, both adults and children, so have a look through the list below and get in touch with your nearest club.
If you have any questions, just email our Region secretary.
or you may find what you are looking for on our Region website.

Region and Clubs
Contact (Email)
Telephone
Day
Time
Venue
Teachers
Website
Email
Region Secretary
Colleen Gunn
027 204 5536
Yes
waikatobayofplenty@dancescottish.org.nz
Cambridge
Carol Lennon
07 827 8260
Wed
7:30
St Andrews Church Hall
Helen Smythe,
Antanas Procuta
cambridge@dancescottish.org.nz
Hamilton Scottish
Rosemary Nicholson
07 839 3849
Wed
7:00
YWCA Hall, Cnr Pembroke & Clarence St
Wayne McConnel
hamiltonscottish@dancescottish.org.nz
Hauraki-Thames
Liz Pryor
07 868 8442
Thu
6:30
Citizen's Band Hall
Olina Carter,
Glenda Hammond
haurakithames@dancescottish.org.nz
Katikati
Fiona McCartney
021 0244-6099
Mon
1:00
St Peters Church Hall, Katikati
Lynne Hudson
katikati@dancescottish.org.nz
Lochiel
Kate Corfield
07 849 6427
Tue
7:00
St Johns Methodist Church
Helen Smythe
Yes
lochiel@dancescottish.org.nz
Mt Maunganui
Lynne Hudson
07 573 5055
Wed
7:00
Mt Maunganui Senior Citizens' Hall
Geoffrey Thompson,
Lynne Hudson
mtmaunganui@dancescottish.org.nz
Opotiki
Sue Stilwell
07 315 4066
Thu
7:00
Waiotahi Hall
Jan Pyke,
Jean Smithson
opotiki@dancescottish.org.nz
Pauanui
John Shaw
07 864 7412
Fri
9:30am
Pauanui Sports & Rec. Club
pauanui@dancescottish.org.nz
Rotorua
Claire Miller
021 154 2473
Mon
7:15
Lynmore Scout Hall, Lewis Road, Rotorua
Marion Jones,
Andrew Patterson
Yes
rotorua@dancescottish.org.nz
Taupo
Margaret Green
021 142 7590
Thu
2:00
St Paul's Union Church Hall
Margaret Green,
Andreena Broadley
taupo@dancescottish.org.nz
Tauranga
Heather Johnston
07 579 1556
Mon
7:30
St John's Anglican Church Hall
Heather Johnston
tauranga@dancescottish.org.nz
Te Awamutu
Agnes Algra
021 721 222
Thu
7:30
Methodist Church Hall, Te Awamutu (1st Thursday)
St Bride's Anglican Hall, Otorohanga (other Thursdays)
Jane McIlroy,
Agnes Algra
teawamutu@dancescottish.org.nz
Tokoroa
Joy Morgan
07 886 7733
Thu
6:30
Amisfield School Hall, Moffat Rd, Tokoroa

Jeanette Lauder,
Genny Hall
Yes
tokoroa@dancescottish.org.nz
Whakatane
Margaret Meredith
07 308 8457
Wed
10.00am
Whakatane RSA
Jan Pyke
whakatane@dancescottish.org.nz
To update an entry on this page, please send an email to the Branch